All articles >
Top 15 Restaurants and Places You Can Dine Alone in Tokyo
Top 15 Restaurants and Places You Can Dine Alone in Tokyo
Tokyo is arguably one of the best cities to dine solo and has been awarded—once again—the world's most Michelin stars in the 2020 edition guide. The city is bustling with endless cuisine options to satisfy even the toughest food critics out there. Besides the world-renowned food scene in Tokyo, Japan is a country where it's seen as socially acceptable to dine alone, with many restaurants catering towards solo dining. The culture is based on the notion of ohitorisama (doing things on your own), so dining is just one of many other activities you can do solo—you can even karaoke on your own if you'd like.
Here are 15 restaurants and places where you can dine alone in Tokyo.
Places
1. Convenience Store
Convenience stores (or combini) are affordable, quick, easy and a great place if you need to take a small break between your exploring. The staff can microwave meals for you, and there's a diverse range of choices from onigiri (rice balls) to spaghetti, with a wide selection of drinks, including hot or iced coffee.
2. Restaurants in stations
Any major train station will have restaurants around the area, and even inside the station itself. Take Tokyo Station for example, which has an expansive set of restaurants including the famous 'ramen street.' These restaurants are great for solo dining, or even just a good break between sight-seeing. If you're on the go, you can even just opt for an obento (lunchbox).
3. Conveyor belt sushi restaurants
Conveyor belt sushi (or kaiten sushi) is an exciting adventure in itself as you're able to order delicious, hand-made sushi from a touchpad, and also grab any sushi of your choice as it rotates temptingly in front of you. There are many different conveyor belt sushi restaurants, but a popular chain is genki-sushi, which you can find in Shibuya and Narita.
4. Street Food
Street food in Japan is both cheap and delicious, and it can be an insta-worthy experience as you film your yakisoba (stir-fried noodles) being cooked right in front of you. Head over to Ameya Yokocho, or Ameyoko for short as the locals call it, by Ueno Station. It's a popular tourist destination, with around 400 shops. Eat your way down the street, choosing from a kaleidoscope of different food stalls.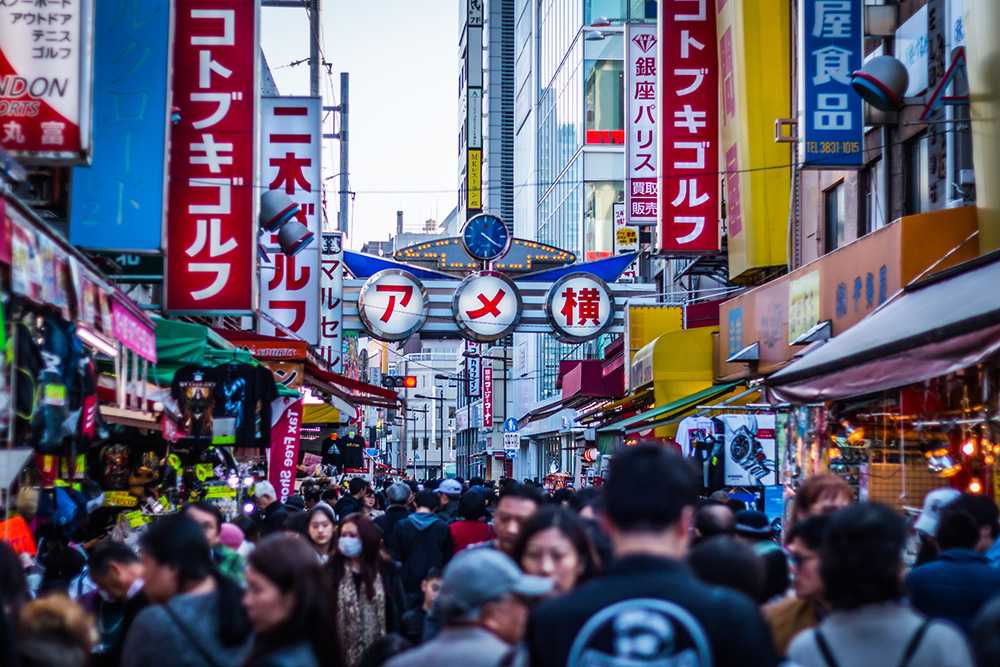 5. Department stores
Tokyo has its fair share of department stores, often very close to big stations like Shinjuku, Shibuya, and Tokyo Station. You'll most likely find a number of restaurants to your liking, and since it's commonplace to eat alone in Japan you shouldn't have any issues dining alone. You can also go on a shopping spree after your meal.
6. Izakaya (Japanese-style bar)
You must have heard of the term izakaya in Japanese, which is a type of Japanese bar where you can get drinks as well as food. These places are scattered throughout the city, and are lively and a good place to meet locals. Although it depends on the place, many izakayas have cheap drinks and food. Snacking on these classic dishes, alongside the lively atmosphere, is a great way to immerse yourself in Japanese culture.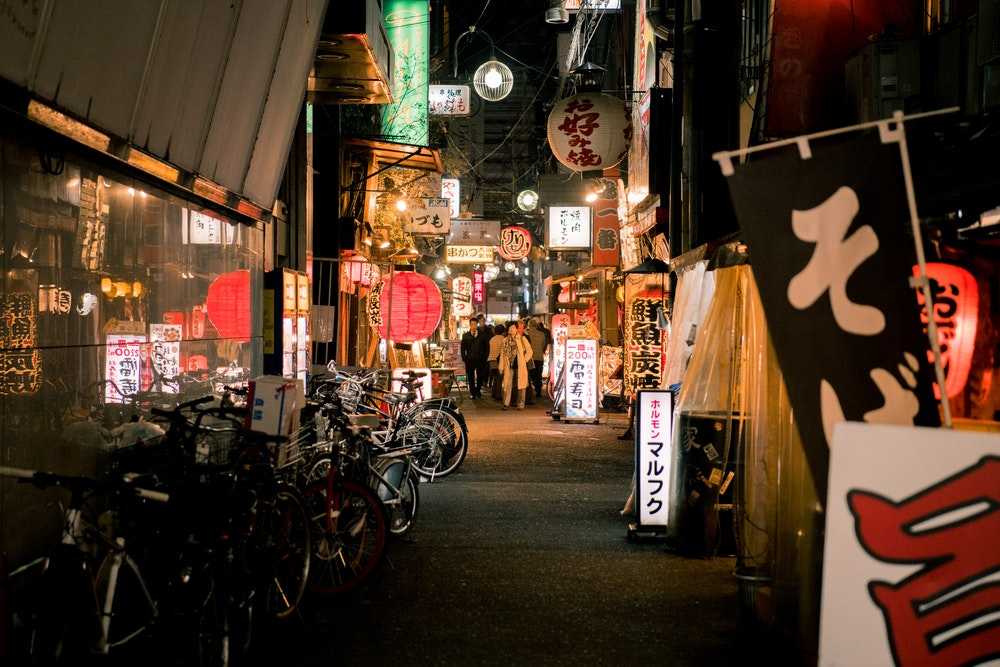 Source: Pexels
7. Japanese fast-food chains
Fast-food chains in Japan are easy to find, and you can get a tasty meal for a good price. It might even be said that they're a healthier choice compared to other fast-food chain chains abroad. You can also find a place to eat by the counter seat if you're eating alone. Chances are, you'll not be the only one doing the same! Yoshinoya and Matsuya are good for gyūdon (beef poured over rice), Mosburger for burgers, and Pepper-lunch for a steak dinner.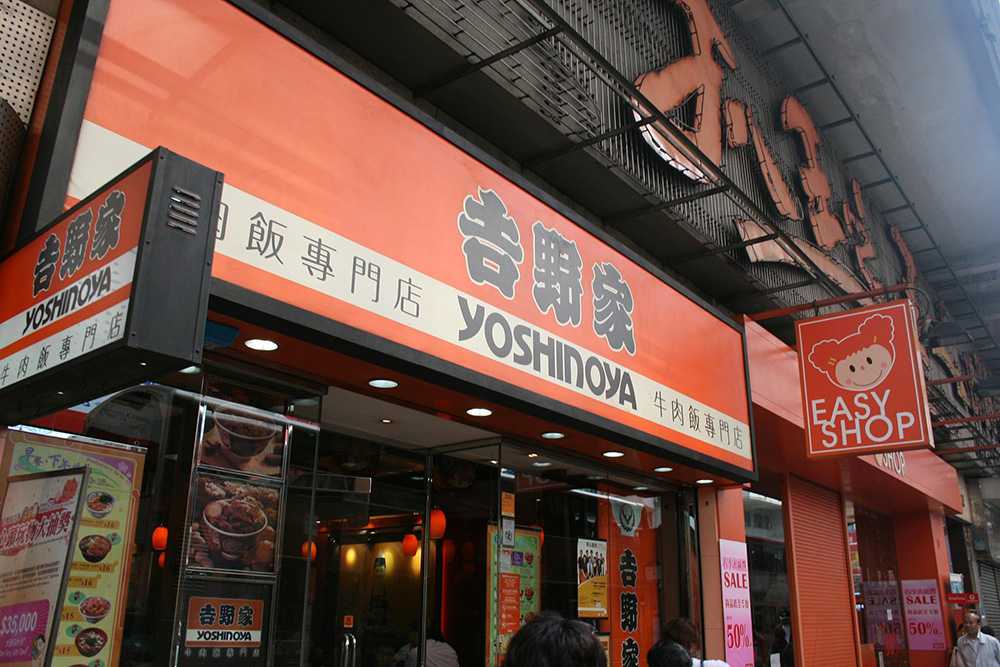 Source: Flickr
8. Family restaurants
Family restaurants are common in Japan, you might have seen some around such as Gusto, Denny's, and Saizeriya. Many locals go there alone, to get a meal or even to study. The prices are reasonable, and often have drink bars for an additional price where you can get unlimited soft drinks and tea. Sometimes, they might even have wifi and are open 24 hours.
Restaurants
9. Ichiran ramen (Many locations)
A ramen chain restaurant, this place specializes in tonkotsu (pork broth) ramen. It also has 'ramen focus booths' that aim to block out distractions and allow you to focus your attention on your meal. These partitions minimize contact with your neighbours, and even your servors. You don't really have to have any human contact, from buying your ticket at the vending machine, to filling out your preference of dish (both in Japanese and English).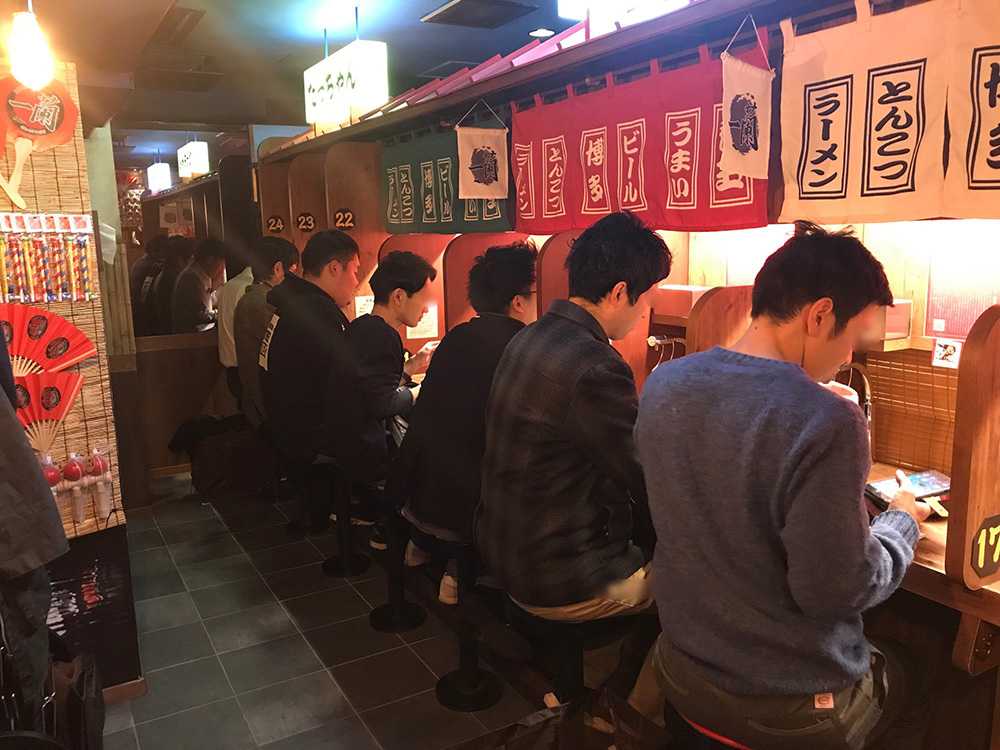 10. Marugame udon (Many locations)
Marugame udon is a well-known chain restaurant where you can eat handmade udon with tempura. It's a cafeteria-style restaurant where you line up with a tray and customize your order. It's popular with the locals as well, because of how cheap it is.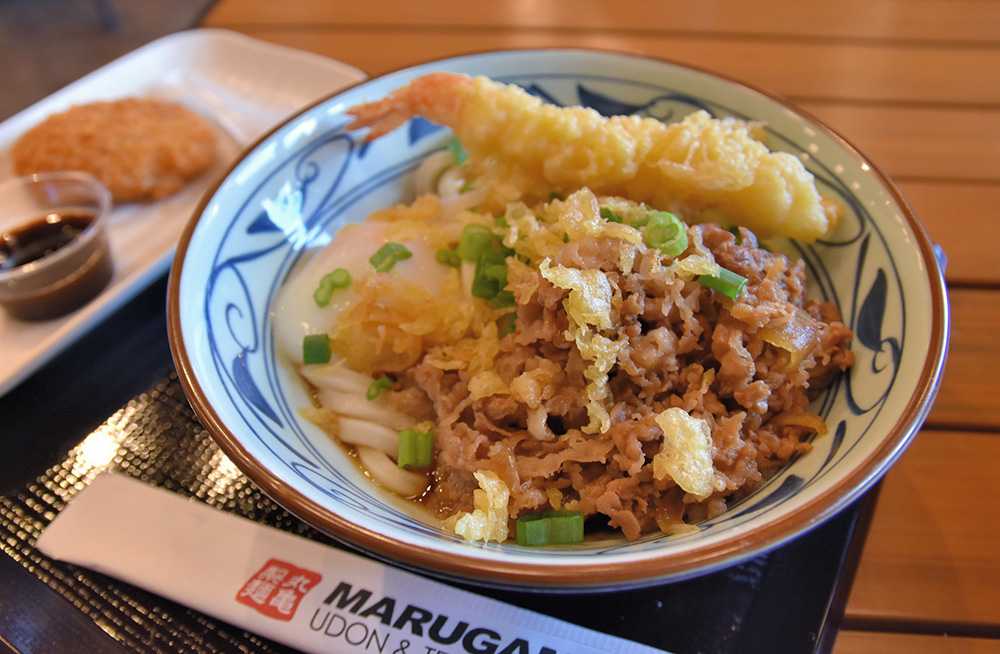 Source: Flickr
This restaurant boasts a new style of shabu shabu, where solo diners can enjoy their own individual hot pot. You can choose from an array of meat, seasonal vegetables, and dipping sauces.
If you've already tried kaiten sushi and want to enjoy a luxurious sushi meal with a reasonable price, Uogashi Nihon-ichi in Dogenzaka, Shibuya, is a great option. It's a standing sushi bar, where you can eat some of the freshest fish and vegetables. It's also a chain restaurant and can be found throughout Tokyo.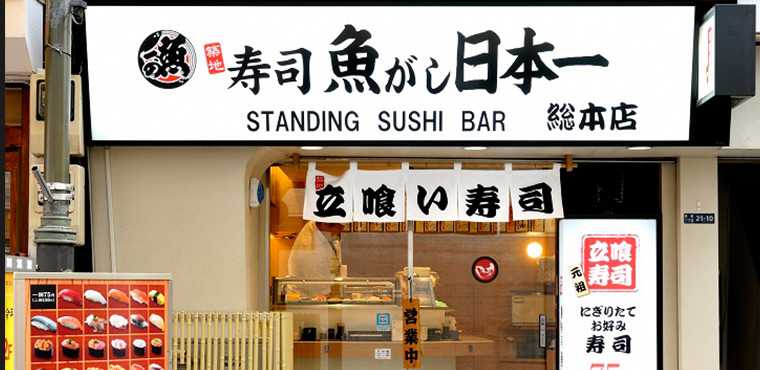 This store accommodates solo diners, and allows them to have a hitori-yakiniku (one-person yakiniku) session at the counter with their own personal grill. You can eat mouth-watering wagyu beef per slice for cheap, and the majority of this place's customers come alone.
14. Jiromaru (Kabukicho, Shinjuku)
A standing bar with excellent ratings, solo diners here get their own stove to cook high-quality, local, sizzling wagyu beef. Serving by slice and grade, you can hand-pick the different kinds of beef you want.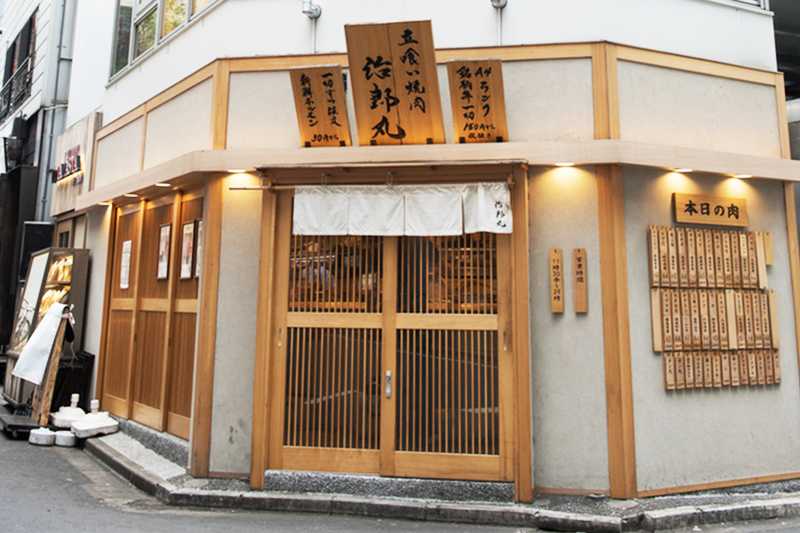 A 5-minute walk from Shimo-kitazawa, this homey izakaya is well known to accommodate one-person yakitori (grilled chicken), so solo diners will fit right in. The establishment not only has mouth-watering yakitori, but also dishes such as stew, seafood, and also have limited edition oyster dishes during the winter.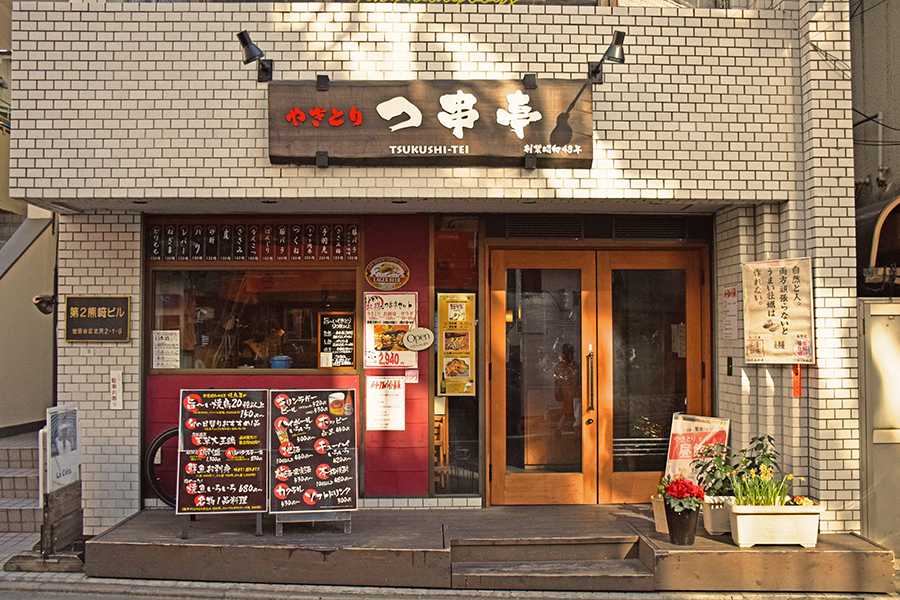 Written by: Rei Ando Nemish
A Japanese and Canadian student, studying in Tokyo, with a passion for food, animals, and adventuring. You can spot her studying in cute cafes on her off days.
Ready to explore Japan?
Download Travelr app, browse all upcoming events and network with other travelers.