All articles >
Restaurants, Bars and Cafes with Outdoor Seating in Tokyo: From Terrace Gardens to Rooftops
From lush green terraces to rooftop gardens, Tokyo has a huge range of restaurants, bars and cafes offering outdoor seating.
Tokyo doesn't disappoint when it comes to outdoor dining options, and what better way to soak up the atmosphere of the city than dining alfresco on a warm spring day or a balmy summer evening? Here's a list of affordable restaurants, bars and cafes in Tokyo with outdoor seating areas ranging from spacious waterfront terraces to lush rooftop gardens.
Shinjuku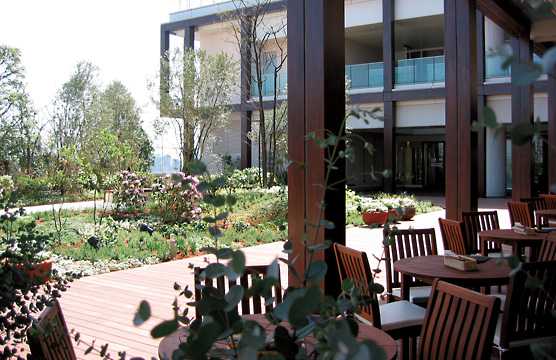 Source: le-bretagne.com
Located right in the heart of Shinjuku, this French restaurant has a pretty rooftop garden on the 13th floor of the Shinjuku Takashimaya department store. Its menu serves amazing sweet or savoury galettes, which are traditional French crepes made with buckwheat flour.
13F, Shinjuku Takashimaya, 5-24-2 Sendagaya, Shibuya-ku
Although this is one of the pricier options on this list, head to Rosemary's Tokyo on the 6th floor of NewWoman Shinjuku to savor the Tuscan-inspired menu if you want to give yourself a treat. Relaxing on the spacious, private garden terrace, it's easy to forget that you're just across the road from Shinjuku Station, the busiest in the entire world.
6F, NEWOMan SHINJUKU, 5-24-55 Sendagaya, Shibuya-ku
With an affordable range of filling burgers, hot dogs and sandwiches, J. S. Burger's Cafe has a relaxed and casual atmosphere and a nice terrace area. Better yet, it's conveniently located right besides Shinjuku Station, perfect for tired and hungry travellers. It can be easy to walk past though — look out for the clothes store Journal Standard and head up the stairs on the right to the third floor.
3F 4−1−7 Shinjuku, Shinjuku-ku
Shibuya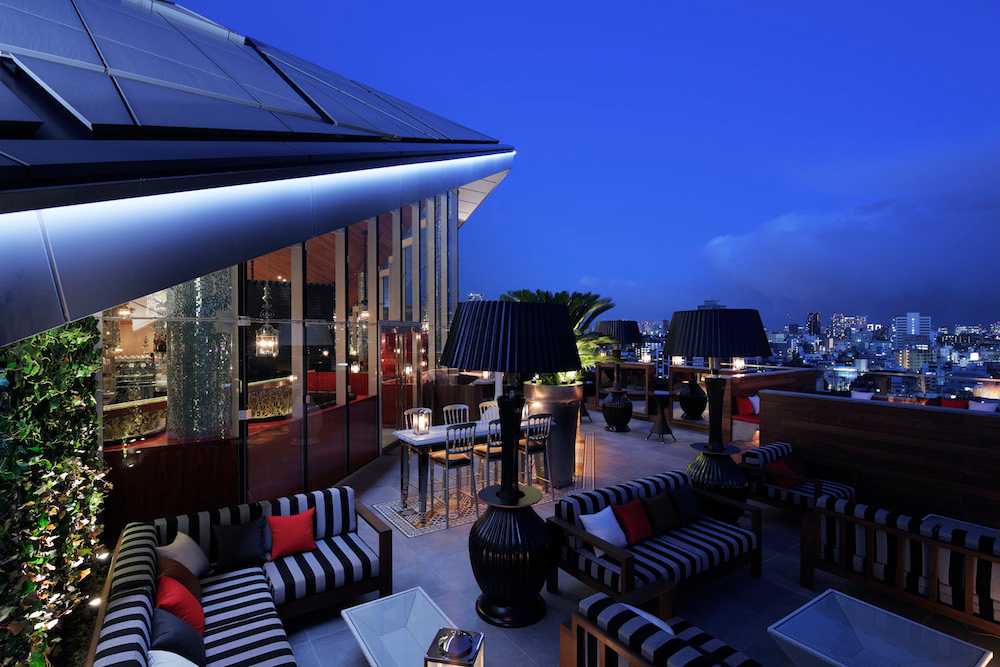 Source: huge.co.jp
Meaning "house in the sky" in Spanish, Hacienda del Cielo is perched on the ninth-floor of the Mansard building in central Daikanyama. Stylish, modern and spacious, this restaurant offers classic Mexican favorites and a chic, modern interior. For drinks, the bar serves imported Mexican beers and plenty of cocktails. Dine inside or head onto the terrace for stunning views across the Tokyo skyline.
9F Mansard Daikanyama, 10-1 Sarugakucho, Shibuya-ku
For more great views across Tokyo, check out our article: Best Free Views of Tokyo
Set in a converted warehouse, Spring Valley Brewery offers a wide range of craft beers brewed on-site. There's a terrace area to enjoy during good weather and a menu of international options from charcuterie to beer-battered fish and chips. Please remember to bring some form of ID as you must be over 20 years old to enter the brewery.
13-1 Daikanyama, Shibuya-ku
Harajuku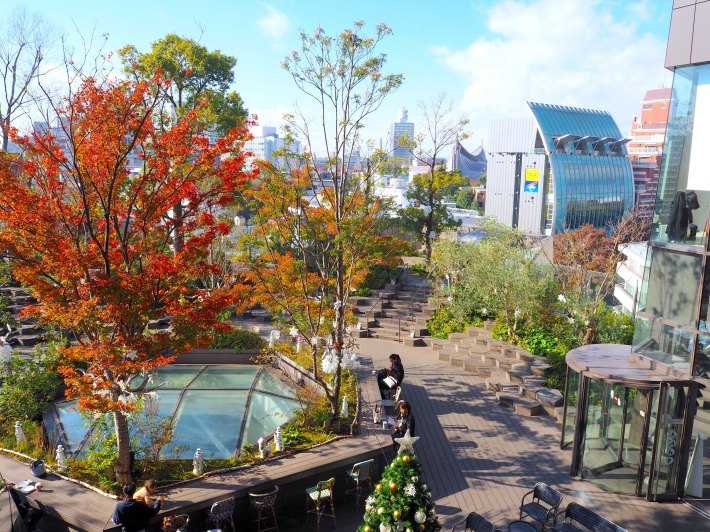 Source: eatandtravelwithus.com
Starbucks at Tokyu Plaza Omotesando Harajuku
This Starbucks is inside the Tokyu Plaza Omotesando Harajuku building, one of the must-go spots for anyone visiting Tokyo's kawaii and pop-culture hub in Harajuku. Head up the mirrored escalators at the main entrance (which is also a popular photo spot for tourists) and take the elevator up to the sixth floor. Take a quick coffee break and lounge in the gorgeous roof garden overlooking the Harajuku streets.
Tokyu Plaza Omotesando Harajuku 4-30-3 Jingumae Shibuya-ku
Nestled away on a little side street away from the bustle of Harajuku's Takeshita-dori (one of the busiest shopping streets in the area) is The Deck Coffee and Pie. It makes a great spot for a break during your day of sightseeing or shopping and has a small terrace area. As the name suggests, the stars of the menu are indeed the pies and coffees, with a range of sweet or savoury pie options including the Lobster and Tomato Bisque Pot Pie and Apple Crumble Pie. The cafe also has great-value taco rice or curry lunch sets on offer and seasonal pastries.
1F, Harajuku Green Heights, 3-53-17 Sendagaya, Shibuya-ku
Explore Harajuku with our article: 4 Hours in Harajuku: 10 Popular Spots to Visit
Nakano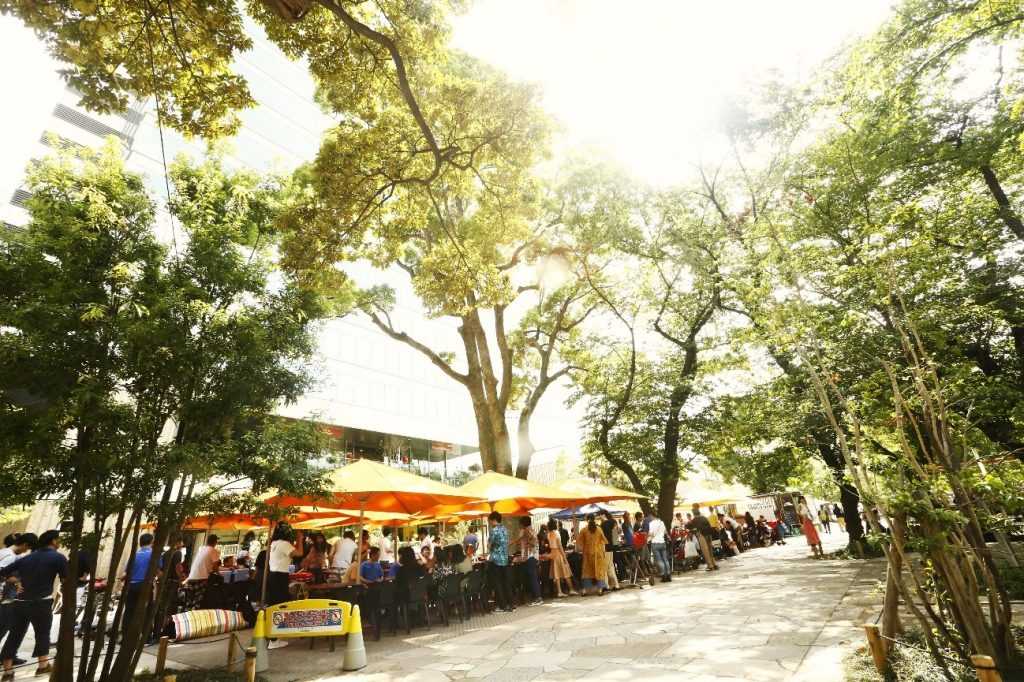 Source: nakano-centralpark.jp
Nakano Central Park
Almost all the restaurants and cafes at Nakano Central Park have outdoor seating, giving this green space a vibrant but relaxed atmosphere — especially in the spring and summer evenings. There's everything from McDonald's to fancier restaurants, so there's something to suit all tastes and budgets. Good Morning Cafe (グッドモーニングカフェ) provides its guests with their own BBQs at the outdoor tables, so you can grill your own food in the park under the shade of the gazebos and trees. Full restaurant list here.
4-10-2 Nakano, Nakano-ku
Ginza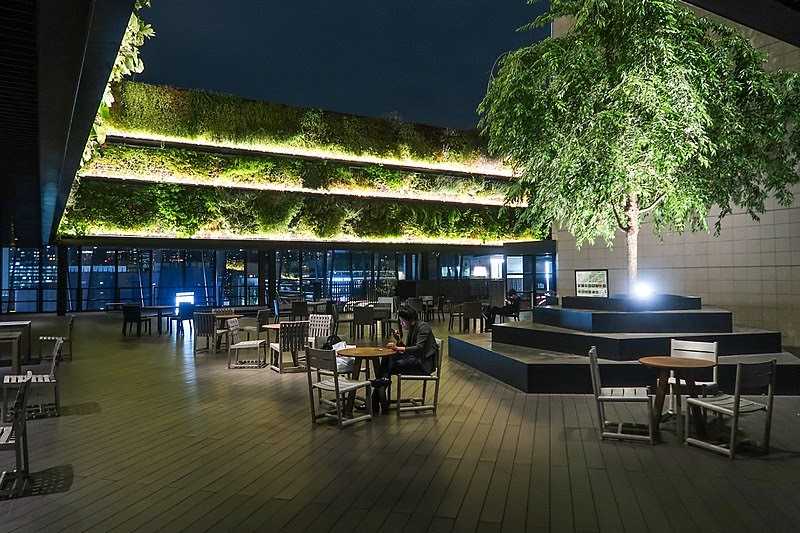 Source: Wikipedia Commons
Kiriko Terrace is located in the modern Tokyu Plaza building in Ginza. Head to the rooftop for a great view of Ginza and Yurakucho, but also for drinks at the bar and light bites at the small cafe. The lush, sophisticated space has ample seating overlooking the view, making this a popular spot to relax with a drink day or night.
Minato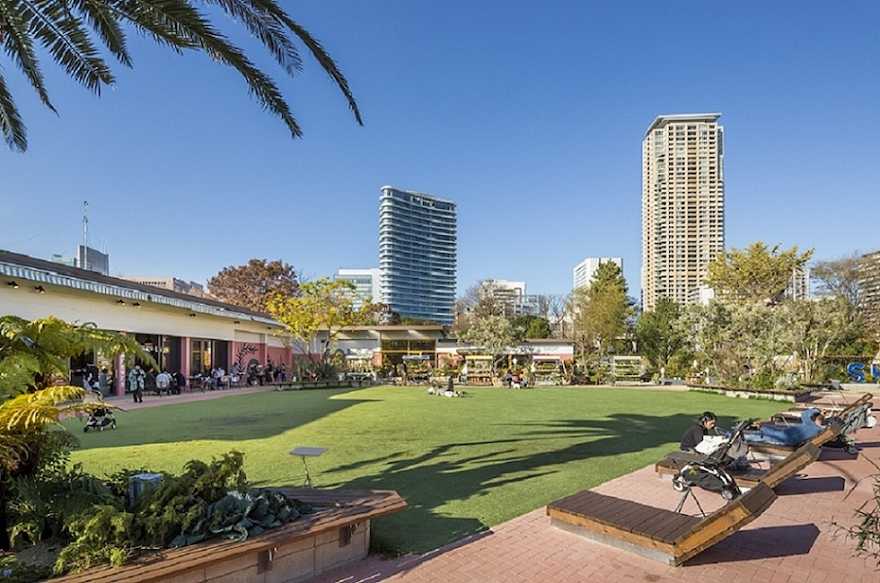 Source: g-mark.org
Little Darling Coffee Roasters is a stylish cafe that's just one of the quirky stores in the creative, green hub called Share Green in Minami-Aoyama. While you're there, you can check out the hipster-feeling plant store Solso Park, flower store All Good Flowers and relax in the sun loungers.
1-12-32 Minami-Aoyama, Minato-ku
This bakery and cafe has beautifully fresh bread, great breakfast and brunch options and a calm, green terrace space. At night, the cafe atmosphere changes into a bar with a selection of ales, IPA and seasonal brews.
5-7-28 Minami-Aoyama, Minato-ku
Dine alfresco on the terrace at Royal Garden Cafe's flagship store. From classic cafe light bites to more substantial meals, the menu has a range of healthy options in addition to the sweet pastries freshly-baked in-house.
2-1-19 Kitaaoyama, Minato-ku
This outdoor food court is a community space with everything from tapas to vegan falafel and a strong emphasis on being eco-friendly and reducing waste. Regularly hosting events and live gigs, it's a great spot to just relax and enjoy the atmosphere. There's also a farmer's market open daily from 10am-5pm if you want to stock up on some fresh, organic veggies and fruits.
3-13 Minami-Aoyama, Minato-ku
Shinagawa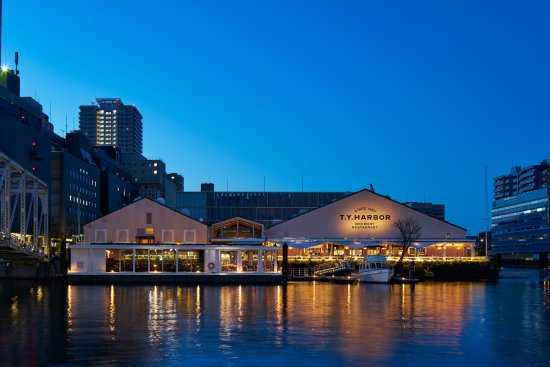 Source: tripadvisor.com
T. Y. Harbor is a restaurant and brewery with a large terrace deck overlooking the waterfront. Its canalside location is definitely one of its main features, but the menu is also excellent. Enjoy the Californian-style ales and porters with a wide range of dishes, such as grilled fish, steamed clams, wagyu beef burgers, Louisiana-style crab cakes, salads and more.
2-1-3 Higashi-Shinagawa, Shinagawa-ku
Chiyoda / Yokohama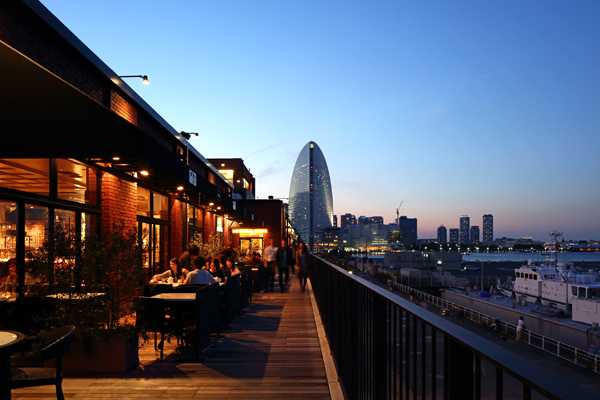 Source: tabiulala.com
This south Italian-style restaurant originated in San Francisco and now has two branches, both with beautiful outdoor seating. Dine with a sea-breeze and stunning view over Yokohama Bay or in the lush terrace garden at the Tokyo branch conveniently close to Tokyo Station.
Tokyo: 2-6-1, Marunouchi, Chiyoda-ku
Yokohama: 1-3-1 Shinko Naka-ku,Yokohama-shi
Explore more of Yokohama with our article: What to Do on a Day Trip to Yokohama From Tokyo
Written by: Jessie Carbutt
Originally from the UK, Jess lives, works and writes in Japan. A lover of exploring and anything creative, she's always discovering new things in her Tokyo home.
Ready to explore Japan?
Download Travelr app, browse all upcoming events and network with other travelers.