All articles >
What to Do on a Day Trip to Yokohama From Tokyo
Get all the best tips for a day trip to one of the most famous cities in Japan. Full of culture and history, a traveller won't be disappointed. From visiting Chinatown to the CupNoodles Museum and catching stunning views of the city and ocean — you should add Yokohama to your Japan travel bucket list.
Yokohama is one of the best cities in Japan that every traveller should visit. The city is full of things to do and has a rich culture and long history to discover. Located just south of Tokyo in Kanagawa prefecture, it was actually one of the first ports in Japan that began foreign trade in the late 1850s and was also ranked the most desirable place to live in the Kanto region back in 2018.
Since Yokohama is so close to central Tokyo and has great transport connections to the capital, it's a perfect destination for a day trip. Read on for the best tips and recommendations.
Check out more day trip ideas with our article: Day Trips from Tokyo
How to get to Yokohama
The best way to get to Yokohama from Tokyo is probably by train, which is convenient and also not too expensive. You can use Google Maps to calculate the route from your nearest station, or I recommend using the free app Japan Travel by NAVITIME.
Here are some of the most common routes:
Shinjuku to Yokohama (¥640): 35 mins by the JR Shonan-Shinjuku Line
Shibuya to Yokohama (¥400): 27 mins by the JR Shonan-Shinjuku Line
Tokyo to Yokohama (¥480): 28 mins by the JR Tokaido Main Line
Shinagawa to Yokohama (¥300): 18 mins by the JR Tokaido Main Line
Nature in Yokohama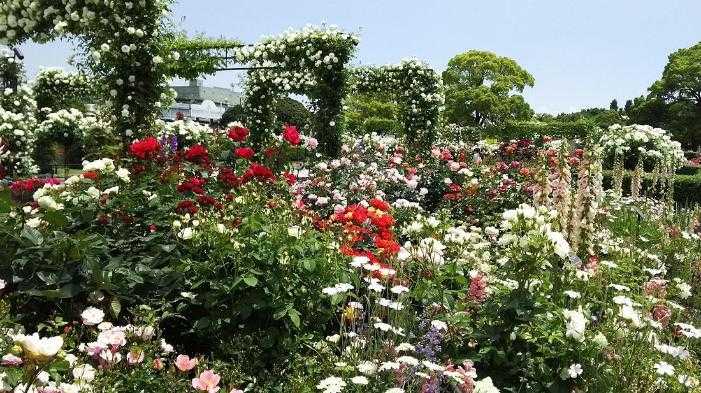 It's always a good idea to start your morning with some nature. You can take a peaceful stroll around the famous Sankeien Garden or feel the ocean breeze in Yamashita Park. However, anytime in the afternoon is still just as enjoyable.
Sankeien Garden has roots going all the way back to the early 1900s, built by a successful entrepreneur. The garden received its title as a national site of scenic beauty in 2007. You can explore its many facilities that emphasize traditional Japanese architecture, such as the Kinmokutsu teahouse. It's ¥700 for the admission fee and open from 9am to 5pm. For more access information, visit the garden's website.
Yamashita Park is located by the ocean in front of Yokohama Port. It stretches for 700 meters and is a refreshing place to walk as you breathe in the ocean air. The park has a variety of unique points, such as the "The Girl in the Red Shoes" statue. There's even a luscious rose garden with over 900 roses and 160 different species (a perfect photo opportunity if they're in bloom). The park is a three-minute walk from Motomachi-Chukagai Station and free to enter. From there, it's around a 10-minute walk to Chinatown, which you should also check out on your day trip.
Shopping and dining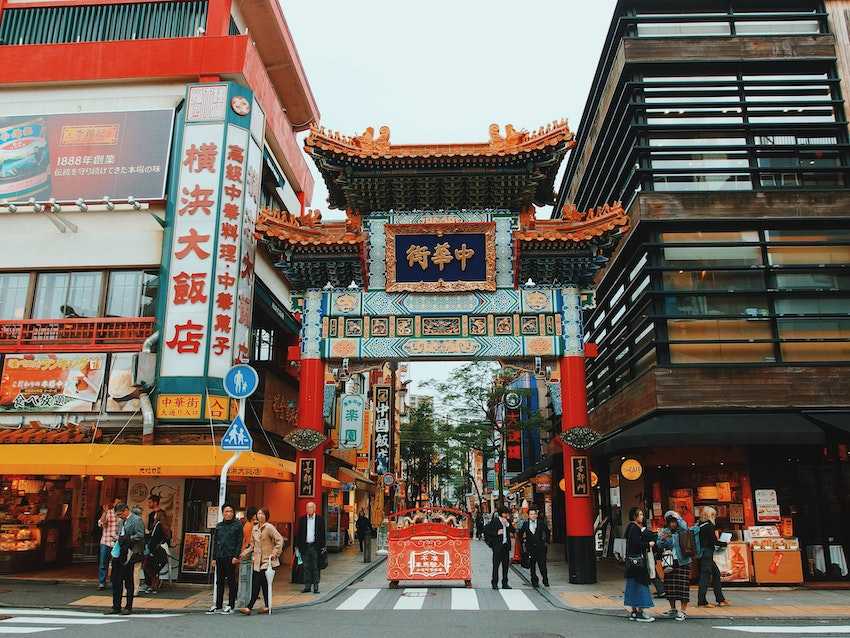 Yokohama has an abundance of places to shop and eat, and is particularly famous for its restaurants serving authentic Chinese food.
Chinatown is a must-go destination in Yokohama, it's a colourful area buzzing with energy (and delicious food). It exudes Chinese culture through its variety of restaurants, shops, and temples. There's plenty of restaurant options for lunch or dinner and you can spend a few hours just exploring the eclectic streets. It's a one-minute walk from Motomachi-Chukagai Station, and you'll probably not need a map as you can usually just follow the crowds heading in that direction.
The Red Brick Warehouse, also known as the Yokohama Akarenga Sōko, is hard to miss since it is exactly what it sounds like — a huge red brick building. This was an actual warehouse until the late 1980s, and in 2002 it became a tourist attraction. This place has many different restaurants, cafes and stores with miscellaneous products. Events are often held here, including the Yokohama Oktoberfest where you can taste some of the world's best beers. To get there, take the Akai Kutsu bus from Sakuragicho Station and get off at Akarengasoko/ MAINE & WALK (¥220).
Minato Mirai 21 is located in Minato Mirai Station, which is the central business district in Yokohama. It's a modern-feeling place where you can take in the views of the city's skyline as well as check out the shops. It's just over a five-minute walk from Minatomirai Station.
Museums and amusement in Yokohama
Don't miss out on these places (especially if you love cup noodles), where you'll be sure to be entertained and get some Insta-worthy pictures.
The CupNoodle Museum is an awesome place to go during your day trip to Yokohama. You can discover the beauty of instant noodles through their policy of "creative thinking" where you can see, touch, play and eat your way through the museum. You can even take home your own hand-crafted instant ramen as a souvenir. Simply put, this place is a lot of fun. The entrance fee is only ¥400 and the museum is located an eight-minute walk from Minatomirai Station.
Cosmo World is a small amusement park in Yokohama that has some roller coaster rides, other carnival-style attractions and the famous Ferris wheel. It's particularly spectacular to visit during the evening when you can admire the lights of Yokohama from the top of the wheel. Admission to the park itself is free, but you have to pay for the rides inside. Check out the park's schedule online to make sure it's open during your trip.
Sunset view from Yokohama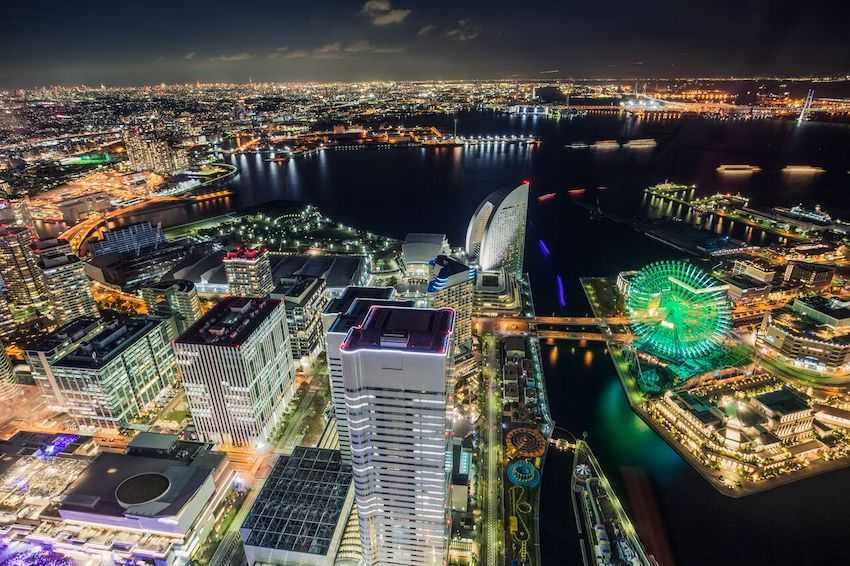 Watch the sunset from the Sky Garden at the end of your trip. It's the highest observation deck in Yokohama with a full 360-degree view looking out onto the Pacific Ocean and the dazzling city lights of Yokohama. There's an entrance fee of ¥1,000 per adult, but it's worth it. Located right besides Minatomirai Station, it'll be an epic way to end your day trip to Yokohama.
Written by: Rei Ando Nemish
A Japanese and Canadian student, studying in Tokyo, with a passion for food, animals, and adventuring. You can spot her studying in cute cafes on her off days.
Ready to explore Japan?
Download Travelr app, browse all upcoming events and network with other travelers.