All articles >
Everything You Need to Know About teamLab Borderless
Everything You Need to Know About teamLab Borderless
What's teamLab Borderless and why should you go?
If you're visiting Japan, teamLab Borderless simply has to be on your bucket list. This innovative art space was born from a collaboration of multidisciplinary specialists, from artists to programmers, engineers, CG animators, mathematicians and more. The immersive experience encourages you to explore art without borders. There's no map for the 10,000m2 space, it's up to you to discover the worlds within. The art itself wanders freely between rooms, communicates with other works and interacts with your own body. Read on for some top tips on how to make the most of this amazing experience.
How to get there
First off, don't get confused between teamLab Planets in Toyosu or the Mori Art Museum in Roppongi. For teamLab Borderless, you need to go to Odaiba. It takes around half an hour by train from Shinjuku or Shibuya Station. You'll need to take the train to the fabulously named Tokyo Teleport Station and then it's just a five-minute walk towards the ferris wheel.
Take Exit A at Tokyo Teleport Station.
Head towards the ferris wheel and up the escalators onto the 2nd floor of Palette Town.
Walk through the Mega Web Toyota building (which is a cool place in itself full of fancy cars).
Head to the teamLab Borderless entrance, which is left of the ferris wheel.
(Note: If you're using Google Maps, set the destination to Mega Web Toyota City Showcase" instead of teamLab. Otherwise, Google Maps doesn't display the correct walking route.)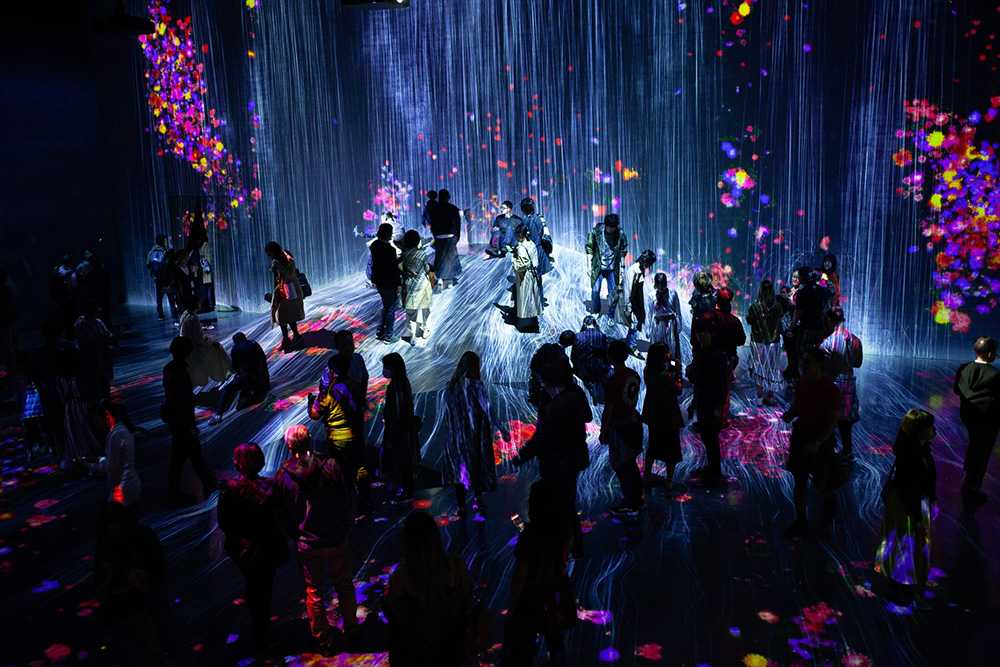 Taking pictures
I'm sure you've all seen those stunning Instagram shots of people posing amongst fantastical lights and mirrors. To be honest, teamLab Borderless is usually pretty busy so it'll be difficult to get a picture without other people in the background of your shot.
However, don't be disheartened by this, embrace it! Many of the rooms work by interacting with and responding to human bodies, so the artwork is in a constant state of creation by people around you. In one of the rooms, butterflies are born from (and sometimes crushed by!) people's bodies, so by sharing the space you're collaboratively creating your experiences of the art.
If you're a solo traveller (like I was) and you're visiting alone, it's likely there'll be plenty of people who'll be happy to take your picture for you. There's no tripods allowed in the exhibition space but many of the rooms' walls are mirrors so you can still get great selfies.
Tickets
You can purchase tickets directly from the teamLab Borderless website and you must book in advance since there's a limit on how many people can go per day.
All the exhibition spaces are included in this ticket, but you have to pay extra for the EN Teahouse, where you can watch flowers blooming inside your cup.
More tips to make your visit more amazing
How long: I spent most of the afternoon here, so make sure you give yourself plenty of time to explore. Even once you've walked around all the spaces, it's fun to backtrack and see them again because the rooms are constantly changing.
When to go: teamLab Borderless is a really popular attraction, so going early morning or late afternoon will help you catch some time outside of peak crowds (it usually gets busy around an hour after opening and quietens down towards closing time). Weekdays are usually a little less busy than weekends. If you arrive as soon as it opens, head to the most popular rooms like the "Floating Nest" and the "Forest of Lamps" to enjoy these spaces while they're still relatively quiet.
The most popular rooms might have lines outside them. There's no way to accurately predict how long you'll have to wait, but I lined up for around 20 minutes for the "Forest of Lamps," which is also the only room to have a two-minute time limit to it.
Be inquisitive! Touch and play with everything you encounter as it's likely to respond to your touch or presence.
Food: There's no restaurants inside the venue, but there's a large shopping mall, Venus Fort, to the left of the ferris wheel once you exit teamLab that has a food court.
Download the teamLab app to learn more about the rooms you're experiencing. Plus, in the Crystal Room, you can use it to release more art into the space.
There's no map so check that you're not missing any rooms by referring to the teamLab Borderless website
Tripods and large baggage (over 50cm) aren't allowed, so you'll have to leave these in the lockers at the entrance (¥100 each). It's best to travel light anyway though, because there's a lot of walking as you explore and some tight spaces.
What to wear: Some rooms don't allow heels, so wear flats. If you want to wear a skirt, be aware that there's mirrored floors in some spaces. Staff will give you a wrap to cover yourself with, but it's something to bear in mind if you want to show off your outfit in your photos.
Take your time and relax: The rooms are constantly evolving, so don't feel rushed to race through everything as quickly as possible or you might miss something. There's also plenty of spaces where you're encouraged to relax and just take things in. "The Black Waves" has beanbags to chill in as waves rise and fall around you. At the En Teahouse, you can enjoy a refreshing cup of tea (¥500) and a matcha ice cream (extra ¥200).
Make sure you draw something: The "Sketch Aquarium" has desks where you can colour-in your own sea life. Hand your finished work to the staff and, a few minutes after they've scanned it, your aquatic creation will be swimming with the others in the tank around you. In the room beside it, you can sketch crocodiles, birds, butterflies and frogs. Once you release them into the wild, they'll interact with the other creatures, hunting one another, multiplying and exploring as huge whales drift across the walls.
👉 More at: borderless.teamlab
Written by: Jessie Carbutt
Originally from the UK, Jess lives, works and writes in Japan. A lover of exploring and anything creative, she's always discovering new things in her Tokyo home.
Ready to explore Japan?
Download Travelr app, browse all upcoming events and network with other travelers.